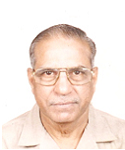 Dr. M .Ramamoorty obtained his BE (Hons) from AndhraUniversity in 1957 and M E from I I Sc Bangalore in 1959. He obtained M.S. and Ph.D from the University of Toronto Canada in 1965 and 1967 respectively. He was a Common Wealth Fellow at Toronto University from 1964 to 1967.On returning to India he joined I I T Kanpur as a Faculty Member in the Dept. of Electrical Engineering where he became a Professor in the year 1972.He established for the First time in India a Graduate Program in Power Electronics at I I T Kanpur in the year 1968.He has supervised 12 Doctoral projects during his stay at IIT and was associated with many sponsored projects from Industries such as BHEL and HSL. In 1977 he joined M/S Hindustan Brown Boveri Ltd at Baroda(now M/S ABB Ltd) as Chief of Research.He was responsible for the development of a number of Prototypes in Switchgear, Relays and Instrumentation. He joined Central Power Research Institute (CPRI) as its First Director General in the year 1983. He retired from service in 1994.During his tenure, CPRI became a well recognized Research and Testing Centre in India.
Dr.Ramamoorty took over as Director ERDA Vadodara in June 1995 and demitted his office as Director on 31st Oct.2006 after completion of his contract period.
He worked as a Visiting Professor at a number of Universities abroad which include University of Sydney,University of British Columbia, University of Washington, Worcester Polytechnic Institute, University of Waterloo and many others.
Dr.Ramamoorty authored Seven Books on Thristors, CAD of Machines, Reactive Power, Power System Protection, Electrical Machines, Hydro Power Generation and Applications of Power Electronics in Utilities and Industries. He edited one Book on Power Plant Instrumentation.
Dr.Ramamoorty has Two Patents on Field Oriented Control of Synchronous Motors and Sensorless Rotor Speed measurement for Induction Motors. He is a Life Fellow of IEEE and Fellow of Indian National Academy of Engineers. He is the Distinguished Lecturer for Region 10 of IEEE.. He is the recipient of a number of awards from professional bodies which include Vasvik Award, Bimal Bose Award, JawaharLal Birth Centenary Award, Visveswariah Memorial Award, Pandit Madan Mohan Malavya Award, National Design Award, II Sc Alumnus Award, NPSC Award, Life Time Achievement Award of IEEMA, Hari Om Ashram Prerit Award and the National Power Engineers Award. He has published more than 200 Technical papers in reputed Journals. During his tenure at HBB,CPRI and ERDA he has guided 10 Ph.D Projects Presently he is the Advisor R&D at EMCO Thane and a Visiting Honorary Professor at OsmaniaUniversity,Hyderabad.