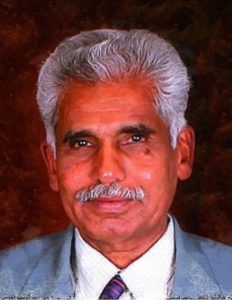 Past Chairman of IEEE Bangalore Section and Life Senior Member IEEE R. Manicka Vasagam is a renowned space scientist/ engineer and is a Distinguished Alumnus of PSG College of Technology and IIT, Madras. He successfully led APPLE ,India`s first experimental geostationary communication satellite as Project Director in 1977-83 time frame paving the way for indigenous technology base for state of the art satellites for communication ,remote sensing and meteorology .His pioneering contributions towards attaining self reliance in inertial navigation and guidance systems, electro optical sensors and systems, onboard computers, avionics and electromechanical systems for launch vehicles and satellites are well recognised by various awards including coveted Padma Shree and IEEE Centennial Medal conferred on him .He also steered the Anna University at Chennai as Vice Chancellor and initiated programmes for aerospace , automotive and IT sectors. The Indian Science Congress was hosted by Anna university in 1999 during his tenure. He is currently chancellor of Dr MGR Educational and Research institute Deemed University Chennai and Karpagam University ,Coimbatore.
He is currently serving as Chairman of the Aerospace Engineering Division Board and Council Member of the Institution of Engineers India.  He is also energising programmes for skill development through MSME initiatives .His passion and pursuit continues to be in technologies for serviceable long life satellites and reusable launch vehicles to make routine and economic access to space practical. He effectively contributed to establishing IEEE-IEI Joint National Award for India.
Initiatives as Chairman of IEEE Bangalore Section
Organising international conference on the Platinum Jubilee of IISc synchronising with the visit of IEE president, nurturing IEEE student chapter activities culminating in an industry supported and peer group mentored video film on "Computers and Common Man-Myth and Reality" shot in around Bangalore presented to the President IEEE to do so first among all the sections of IEEE in the world and later aired on Doordarshan, conducting IEEE Robotics course through APPLE at 7 locations in India with resource persons at Detroit, New Delhi and Ahmedabad with audio- video downlink and audio uplink ,chairing the Profiscience programme run by17 professional bodies in collaboration with IISc for working professionals in the evening in emerging areas,getting IEEE Resource Centre for access to IEEE publications and supporting student projects to mention a few. Membership drive was always a pleasing task.
Suggestions for future
Work in synergy with Make in India and Digital India initiatives, honour Indian pioneers in a Hall of Fame may be virtual to begin with and awards for students and start up ventures in college campuses with industry support.