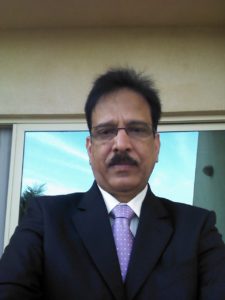 Prof. Kasi Rajgopal obtained B.E. degree from Visvesvaraya Regional College of Engg., Nagpur University, in 1975, and Ph.D. from Dept. of Electrical Engg., IISc, Bangalore, in 1985. He joined the Dept. of EE as Lecturer in 1985, and currently Professor in the Deptartment. He has more than 80 research publication in Journals, International and National conferences. He has contributed a chapter in Edited Volumes on "Medical Imaging Systems Techniques and Applications : Modalities" GORDON and BREACH International Series in Engineering, Technology and Applied Science. His research interests are in Bio-Signal Processing, Medical Imaging and Computed Tomography, Adaptive Signal Processing, Real-time Signal Processing with DSP processors.
  He is a Senior Member of IEEE, USA, and past Secretary (1997,98), Vice Chairman (1999,2000) and Chairman (2000,01) of the IEEE Bangalore Section. He has been conferred with the Outstanding Student Branch Counselor (1991-92) and Region 10 Outstanding Volunteer Award (2002) the IEEE. He served as the Chairman of the IEEE India Council in 2009-12. He is a member of IEEE-Eta, Kappa Nu, a prestigious society.
 Prof. Kasi Rajgopal steered the Bangalore Section into new millenium with several new path breaking initiatives.
The Section reached out to different sections of members from Public and Private Industry, R&D Instituttions, and most importantly the students by conducting Seminars, one day workshops and tutorials, series of Distinguished Lectures, and Popular Science talks. The DL Programs, Workshops and Seminars were organized outside Bangalore for the first time at Mysore, Bagalkot, and Manipal.
It started a printed newsletter "BROADCAST" for better interaction with members and to improve communications with them.
The section started financial support for the student branches for one annual event and one time grant for new student branches.
The section celebrated the 25th year of the formation of the Section in a grand manner with many events including an International Conference on Communications Control and Signal Processing. The Section also made a successful bid for R10 conference TENCON which was held in 2003.
The section encouraged volunteers and built a strong volunteer base from industry, R&D Institutions, GOLD and students.
 Prof. Kasi Rajgopal served as India Council Chair during Jan 2009- May 2012.
India Council bylaws were drafted to conform to MGA guidelines and were approved by all sections, R10 and MGA.
The India Council Newsletter in printed form was discontinued to save both printing and distribution costs and an electronic version was successfully started with less than Rs 5000 cost to the India Council.
E-Mail/net virtual monthly meetings were held in addition to the two meeting where all EXECOM members meet.
National Distinguished Lecture Program were conducted under different Sections during 2009, and 10. All India Student Branch Counselor Congress were held at Bangalore and Mumbai.