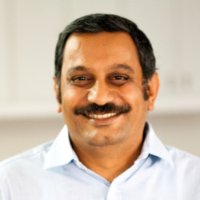 Ravikiran is an accomplished business leader, entrepreneur, coach, teacher and volunteer leader. He has 22 years of rich global experience at large MNC's like Siemens & Nokia Siemens Networks, founded successful product startups and leading a large technology community at IEEE with global leadership roles.
His passion is to make Innovation as habit with individuals, organizations and society. He works closely with students and young entrepreneurs, making this a reality with a structured approach of lean innovations.
He has done his MBA from IIM Bangalore and B.E from U.V.C.E Bangalore. He has been awarded by various organizations for his contributions to Innovation, Leadership and Building communities. He is an amateur astronomer, photographer and writes poetry in his spare time.
Experiences and Accomplishments
• Founder and CEO at Innohabit Technologies, which has launched SaaS solution for product management of technology business ( www.woises.com) . He is also incubating ideas around analytics for IOT ( www.fulassure.io ). Innohabit is also the local operations partner for Finnish corporate venturing firm Avanto Ventures ( www.avanto.fi )
• He is passionate about innovation and entrepreneurship. He is involved in the ecosystem as Director of Founder Institute – Bangalore Chapter and as mentor with NUMA Bangalore, Unresaonable.org and Deccan center for Innovation and Design. He is a charter member at TiE Bangalore and contributes towards TiE-IESA initiative www.IOTforIndia.org contributing towards Agri-IOT startups.
• Investor and Co-founder at Teritree Technologies Pvt. Ltd, which has achieved success as being NASSCOM's EMERGE 50 company of 2014. As founder CEO, Built the business from scratch with a competent team and achieved market success by working together with customers.
• He has been an active IEEE volunteer leader for over 15 years and has worked from grassroots to global leadership. He was the Chairman for IEEE Bangalore during 2014-15 and brought out new changes and initiatives in Industry engagement, he started the popular IEEE SmartTech Series in India. Under his leadership, IEEE Bangalore has been awarded as MGA Best Large Section 2014 across the world and. He has been convener for the mega IEEE 125 year celebrations in Bangalore (2009).
• Global volunteer leader at IEEE, world's largest technical professional body. He contributed as Secretary to IEEE Region 1o (2015-16), handled Industry relations (2014-15), R10 Newsletter (2017) and Co-Chair IEEE R10 50 year celebrations (2016-17). He contributes to global IEEE activities and currently is on IEEE Technology and Engineering Management society Adcom as Editor-in-Chief for IEEE LEADER Magazine ( leader.ieee-tems.org ) and on IEEE 5G Initiative ( 5g.ieee.org ) as Co-Chair for Education initiatives and Lead for Applications and Services
• Business Head at Nokia Siemens Networks (now Nokia) for VAS, Innovative 3G data services and multimedia solutions in India, he led multi-million-dollar business and built products that are still successful in the market.
• General Manager at Siemens A.G with leadership roles in Convergent charging (BSS) business. He played a key role in evolving right technology for mobile pre-paid in India.
• He has an ability to spot talent and coach teams to excel. Many of his teammates are successful as Entrepreneurs, CXO's and Leaders in technology industry.
• Thought leader and passionate teacher, offers courses on innovation, entrepreneurship, leadership, product management and latest technologies at various institutes.
• He was the runner up at AIMA – All India Young Manager contest and has also won awards for innovation and leadership at Siemens.