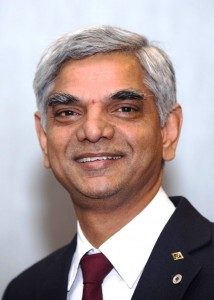 Ramakrishna Kappagantu has over 33 Years of rich experience in Indian Power Sector viz. NTPC and POWERGRID. Presently he is an independent consultant and serving on the Advisory Committee of few Organizations & Institutions. Earlier, he made important leadership contributions towards development of Solar Power Projects for a Social Entrepreneur, POWERGRID's first India Smart Grid Pilot project and management of 55 GW South Indian Power Grid, its complex real time operations, Power Markets and SCADA-EMS Systems. His interests include Power System Economics, Smart Grids/Cities, Renewables and SACADA-EMS. He is a regular invited speaker at several reputed journal and conference publications. He graduated in Electrical Engineering from MNIT, Jaipur, with a Masters in Automation and Controls from JNTU, Hyderabad, and heading for completion of PhD in Smart Grids from NIT, Tiruchirappalli. He works for embedding Human Values in Technology and Management and believes that value induction alone can drive Students and YPs to develop technology for benefit of Humanity. He is a dedicated member of IEEE for over 27 years and currently a Senior Member & Eta Kappanu of iEEE and a Life Fellow of Institute of Engineers (India). He is a passionate and dedicated IEEE volunteer with excellent leadership/management skills, and successfully served in several responsible positions at the Chapter, Section, Council, Region, MGA and Board levels since 1997 which include elected leadership positions also as Chapter Chair, Section Chair, Council Secretary cum Treasurer and Region Director. The history and performance of these Geo-Units reflect his true involvement and multi-faceted contributions including several transnational assignments. His sincere contributions have been acknowledged by global IEEE Communities through various awards viz. IEEE MGA Innovation Award 2014, IEEE PES Outstanding Engineer Award for 2012, MGA Achievement Award 2011 and IEEE R10 & Bangalore Section Outstanding Volunteer Awards in 2010.
Contributions as Bangalore Section Chair:
Ramakrishna was one of the youngest chairs of IEEE Bangalore section (2008- 2009). He strategically transformed the Bangalore section as one of the most vibrant sections in R10. His Volunteer service & leadership to the IEEE India Council, Bangalore Section and Power & Energy Society Chapter were focused on providing opportunities and encouragement for members, students & young professionals to recognize and advance their technical /professional leadership skills. Under his leadership, Bangalore section has reached very high membership numbers of reaching 4500 in a short period. He had guided the society chapters of section to revive and excel by providing seed money and volunteer support. He embodies the spirit of IEEE and has been an excellent advocate of ethics in Engineering that showcased the basis for practicing and budding Engineers to develop technologies to solve humanitarian challenges through AIYEHUM, a novel HAC initiative taken by him as section chair. He was instrumental in Bangalore Section signing MOU for Sister Section Relationship with Princeton Central Jersey Section, the first of its kind in IEEE R10/India. He was involved in playing a key co-ordination role in the MOU signing assignment of IEEE-SA with Bureau of Indian Standards in India as a part of Smart Grid Initiatives. His rich and vast experience in IEEE through cross functional leadership across membership development, conferences, professional & student Activities is evident from the successful completion of the historic IEEE 125th year anniversary celebration and some of the big events like R10 GOLD Congress, WIE Summit and the All India Student Branch Counselors Meet during the year 2009. Being the chair for all these programs he could lead, guide and develop with excellent dynamism & smart approach, a big bunch of dedicated volunteers which certainly exhibits his strong interpersonal skills with sensitivity to cross-cultural and transnational issues.
Future Course of Action:
After receiving many applauds including the Global MGA Large Section Award and hosting the R10 SYWL Congress and 50 years grand inaugural with Board level participation, IEEE Bangalore Section is all set to grow its membership as well as brand name and so are the expectations of stakeholders, especially members/volunteers. ICE (Identify, Connect and Engage) is the best way to enhance IEEE's true value at the section. Organize branded value activities to Identify prospective members, enthusiastic volunteers and their needs is the first step. Connect them with IEEE, through best possible ways including social media is next step. Of paramount importance is to Engage all interested with high quality activities. Capacity Building and Micro Volunteering certainly would help at the section and chapter level.