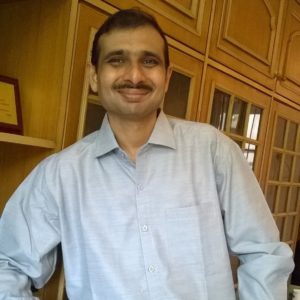 Hitesh Mehta is the co-founder of  Fiber Optika Technologies Pvt Ltd and Managing Director of Eagle Photonics, a company working in area of telecom services. He has​ 22 years of experience in Fiber Optic communication & Telecom  industry, ranging from Production, R&D, Business Development, Project Management and consultancy. Hitesh received his M.Tech degree from IIT-Delhi in the year 1995. He started his career with Optel Telecommunication & later worked at TVS before Co-founding Eagle Photonics in 2002 and Fiber optika Technologies in 2008. Eagle Photonics has created its own space in area of telecom system integration and training.
Hitesh Mehta is past Chairman of IEEE Bangalore Section. He served at  Coordinator for continuing education program for working professional (PROFICIENCE) at Indian Institute of Science, Bangalore for 4 years. Hitesh Mehta received DST- Lockheed Martin Gold Medal for Innovation,Alexender Graham bell Award for innovation,  Economic Times-Power of Ideas award for one of best start-ups. He has filed 12 Domestic and International patents. He is fellow of IETE, Senior member of IEEE and member of Communication and Photonics society of IEEE.
Presently he is member of EPEB of IEEE's global Educational Activities Borad and Chair of IEEE Photonics Sociry – India chapter.

IEEE Bangalore section tenure:
Bangalore section has consolidated its position as truly most vibrant section among all Indian sections and perhaps all R10 sections in year 2012-13 and received Best Large Section Award from MGA for year 2013 and Best section award from R10 as well for same year.

In these two years, membership grew steadily and we achieved milestone of 8000 members first time (although goal was set for 10,000), we had remarkable achievement in form of senior member elevation which saw 200+ new senior members just in year 2013! Bangalore section hosted IEEE A&A Panel meeting second time ever in India- first time also we were host in year 2007. Mangalore sub section has been formed towards end of 2013.
As a mission to provide value for membership, section signed MoU with TiE, PMI, Swissnex, Contact Singapore and Product Leadership Institute.
We wanted to convert our annual symposium to an international event and we did it  with starting off IEEE CONECCT successfully and event has established itself as reputed annual program for researchers in area of Computer, Communication and Electronics area.
I had very satisfying journey of 12 years with IEEE Bangalore section, which had  come long way, from academic and research oriented organisation to true mix of industry and academia, from 6 societies to 25 societies and affinity groups and from 2000 to 8000 members.
New initiative:
Section should organise at least 2 more networking event every year (apart from AGM), where all non-student members (with spouse)  can meet and network with each other.