IEEE-GIT Student Branch 
Year of establishment: 1985
Membership strength as on 15/06/2017: 30 student members; 5 Professional members; 2 SMIEEE
Branch Counsellor (Present): Prof. Vineeta P. Gejji
Student Branch Chair (Present): Mr. Koustubh Kulkarni
Achievement:
Student Branch being 30+ years old is active for the past 10+ years and has reported all its activities in time for the past 10+ years.
Two Members have been elevated to Senior Member IEEE through ELEVATE program.
Branch WIE affinity group was selected under STAR program and supported with funds of $300.00 for its activities and contribution to IEEE WIE.
Future Plans:
Student Branch will eye for achieving best Branch; best BC; best Branch Website etc. awards at Section and Region level.
The Branch will keep an objective of hosting All India Students Congress; WIE National Summit in the next 5 years. The Branch will collaborate with industries nearby and file for starting a Technical Society or Chapter and organize ONE International Conference in the future. The Branch will try to conduct compulsory ONE humanitarian event every year and make it a flagship event to support society and stay with IEEE motto: Advancing technology for humanity.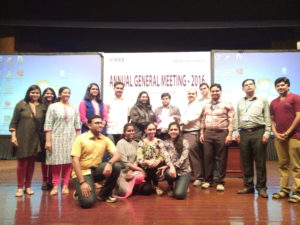 IEEE-GIT placed 3 rd in Poster Competition during AGM-2016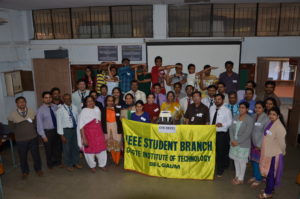 IEEE DAY Celebration in 2016