IEEE KSIT STUDENT BRANCH DETAILS:
Year of establishment: 2002
Present Membership: 45
Present Branch Counsellor: Dr. M J Shanthi Prasad
Present Student Branch Chair: Varsha S Bhat
Most important achievement by the SB since inception: The student branch conducted a technical fest –InnovacEEEa in the month of March 2017 having over 480 students participating from various colleges around the city and it had over 40 volunteers from the student branch in organising the event successfully.
Plan For Next 10 years: Establishment of Smart Lab in college, Tedx talks from the best entrepreneurs, various fund raising events like Marathons, Flash mobs, selling of mini projects done by IEEE student members in order to help the needy, technical events like Robo wars, circuit debugging, app building, quizzes, paper presentations, Hackathons for 48-72 hours continuously, conducting workshops on the present technology in order to upgrade the students technically. Along with all these event we have also planned for continuing IEEE day celebrations, Women's day celebration and updating our student branch regularly according to the Section norms.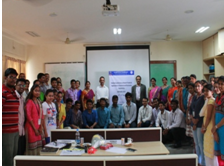 A picture from the National conference  that was held by IEEE KSIT SB on  10th and 11th May 2017.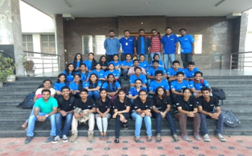 A picture of all the volunteers who helped in organising InnovacEEEa held on 11th March 2017